I can't help but laugh at this:
SRAW said:
I would have considered that if for the fact that I haven't downloaded anything onto my laptop (except for some games I transfered, but they aren't infected).

In fact it said that windows 7 recovered from a serious blue screen error :O O:
SRAW said:
And apparently some spammers on yahoo answers keep on posting this site
http://77.78.239.64/~search/
(put the ~search).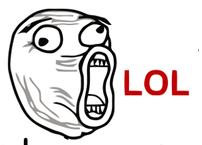 You fail to note that I never use my windows 7 to go online except if I'm playing games, I used all this from my xp.
And you shall never find out DR (but I remember aaronjer came close in guessing once, but he was wrong about me getting raped by my dad...)